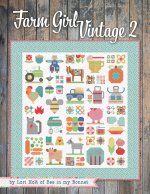 Farm Girl Vintage 2,
starting Saturday, November 16, 2019
Welcome back to Lori Holt's farm with Farm Girl Vintage 2! Quilt Retreat Thyme is excited to bring even more quilt blocks and projects for all Farm Girl Vintage fans to enjoy. Lori has rounded up 45 unique 6" and 12" quilt blocks inspired by her rural roots. She has also designed 13 new projects in this book, including quilts, pillows, a pincushion and of course a fantastic new sampler quilt! As always, quilters can mix and match quilt blocks from Lori's previous books, so they can piece together endless possibilities.
Introduction to Farm Girl Vintage 2, Saturday, November 23 10:00 - 11:00 am

Seeing Stars,
Designed by Sue Carter for Turning Twenty,using Kim Diehl fabric
Who doesn't love a Star quilt?!
Sue Carter has designed a gorgeous quilt and it will truly have you "Seeing Stars". This beautiful design is written as a Block-of-the-Month pattern, to be worked at your own pace. Quilt measurement 76″ X 96″
20 Years of KTQ (Kansas Troubles Quilters), starting January 11, 2020
Kansas Troubles Quilters is having a celebration of 20 years designing with Moda! Lynn Hagmeier has designed a commemorative Block of the Month in celebration of her milestone. Aptly named is also her new line of fabrics, Milestones, which will be used in this patchwork quilt. This 118" square king size quilt features 20 blocks – one for each year. This quilt is traditionally pieced with a little bit of fusible applique for fun. Lynn has also included 3 bonus patterns included with your Block of the Month, Woven Dreams, 20 Plus and 2 Steps Forward, as well as A Few Little Extras using your leftover fabric!